Horses In Training
Welcome to our Horse in Training section. In here you'll find out more about our current and previous racehorses including how we bought them, what we like about them, their training schedule, current successes and future targets. We love all our horses, they all have different personalities and enjoy going about their work and training.
For more information on any of them drop us a message today. Also to check out which ones have available shares to purchase (for you or a friend or loved one) visit our available horse shares section. We have different horses to suit different budgets.
So sit back and meet the Dooley Thoroughbreds team! And if you see any of them on a racecourse near you please give them a shout on!
Saltonstall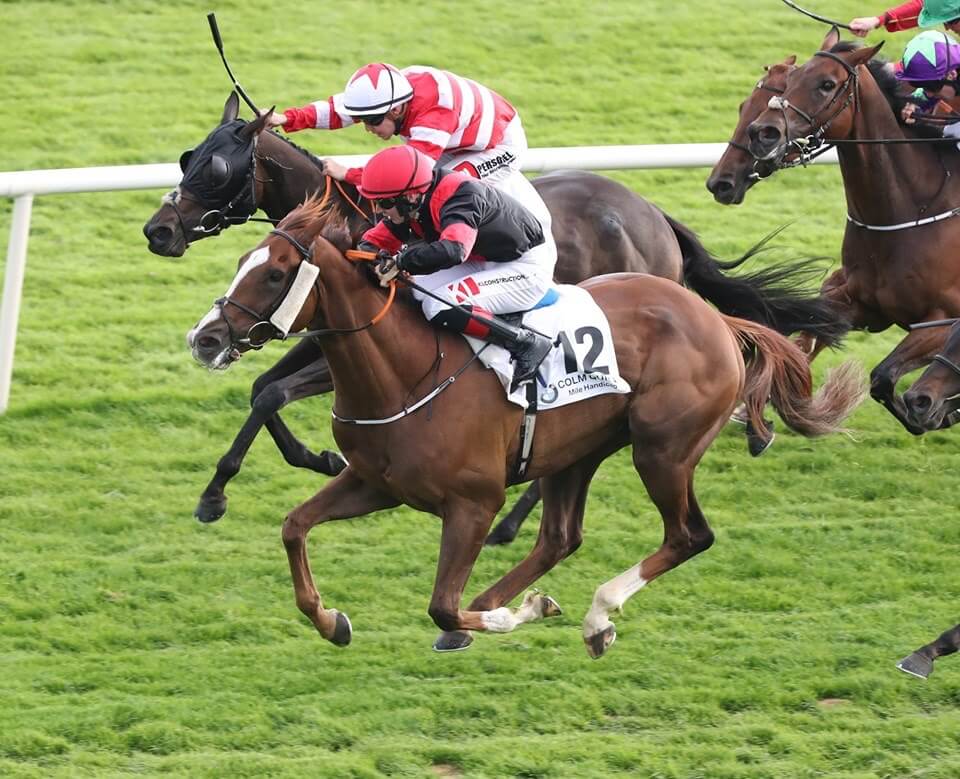 Saltonstall is a 5yo thoroughbred born in the UK. He is by Pivotal and trained in Ireland by Adrian McGuinness.
He was purchased in the autumn Goffs sale for €44,000. Having been previously owned by Godolphin and trained by Mick Halford the horse came with a lot of recommendation by Stephen Thorne (assistant to Adrian McGuinness) an ex Godolphin graduate who won the "Lead by Example Awards" on staff night.
After taking a little while to get accustomed to his new environment, Saltonstall began to show his true ability. His form on the gallops and at home was exceptional but a mixture of ground and misfortune meant he was unable to transfer this onto the racecourse even though was well fancied for some of the biggest handicaps in the UK and Ireland, including The Lincoln at Doncaster.
The application of cheekpieces seemed to bring out improvement and eventually he worked himself back to form. In May 2019 he took his true form to the track with an excellent confidence-boosting 4th in a premier handicap at the Curragh, where seemingly luckless in running.
An assault on one of the biggest festivals was next on the cards and a plan was hatched for Saltonstall to go to Galway in a bid to win the huge €120,000 premier Colm Quinn handicap.
With the rain finally forecasted and the ground more in his favour the vibes from the McGuinness camp were good. Going off a strong 9-1 third favourite of 18 Saltonstall won in fantastic fashion and finally proved his full potential and the belief that his trainer and Dooley Thoroughbreds had always held onto.
Now well and truly over his misfortune and with the horse's confidence on a high, Saltonstall has many more planned assaults on the horizon.
Saltonstall is a kind-natured horse with a great temperament and loves being turned out in his paddock after his morning training.
Check out his amazing win at the Galway Festival here:
Sirjack Thomas
Sirjack Thomas was purchased in the Goffs autumn sale for a fee of £64,000 from the Johnny Murtagh stable.
He is feisty grey gelding who possesses plenty of speed, as recently proven winning a 5-furlong race at Sligo, however, this talented horse also competes in hot premier handicaps ranging up to the 1-mile trip.
Sirjack is an exceptionally athletic type and that's one of the numerous reasons we decided to purchase him. He is by a proven sire of good horses in Fast Company and is a horse who prefers soft going.
Sirjack is a real character around the stable and is full of energy every morning - he is a horse who really enjoys his work. Many of the off-spring of Fast Company have made into exceptional hurdling types in recent years and with this in mind, we were obviously eager to see how he would take to the jumps. As our trainer Ado McGuinness also comes from a show jumping background (owning his own equestrian centre before taking up racing) we knew we had the right man to educate him.
Fortunately, Sirjack Thomas needed little in terms of training as Ado reported him as "an absolute natural" taking to his hurdling like a duck to water.
As you can imagine this opens the door to numerous options operating on the flat during the summer months and then switching to hurdling over the winter making him hot property in the syndicate world.
Check out his recent win at Sligo Races where he has won there now for a second time.
Polticise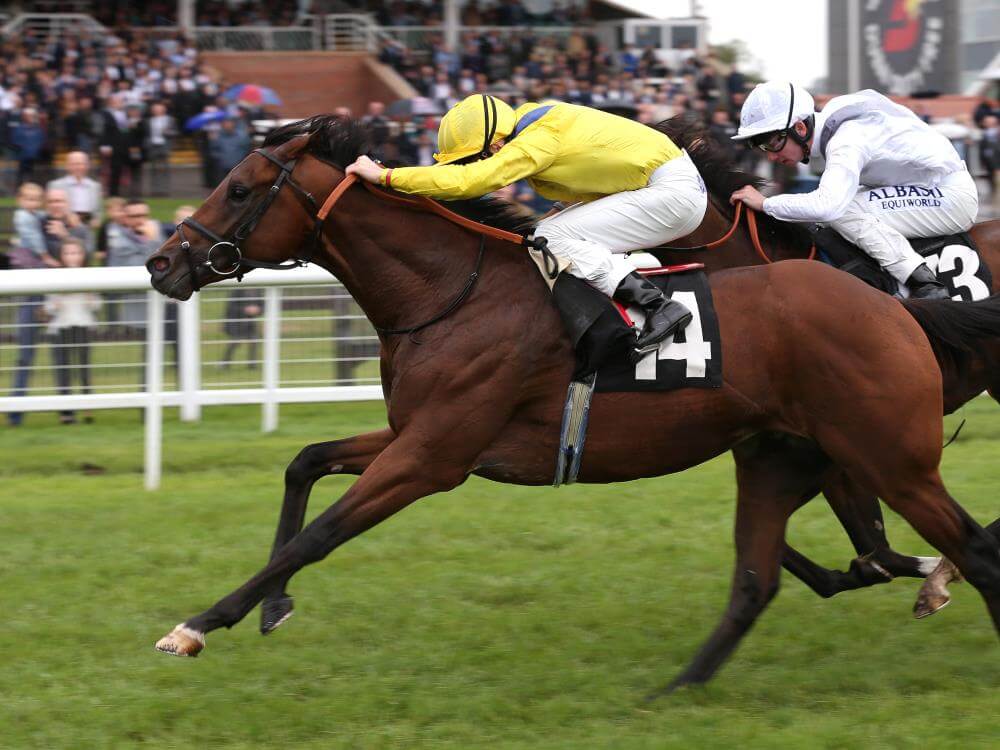 Check out Politicise at home.
Current Option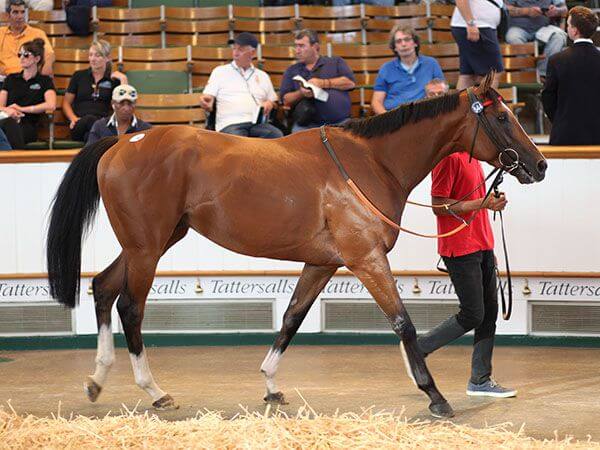 Tattersalls July sale 2019, Current Option in the ring before we purchased him.
Current Option was a horse we liked from the moment we saw him in the Tattersalls July sales catalogue.
Fantastic breeding, proven on the track and with the ability to improve way beyond his current mark he was a horse we had our eye on. His run when third behind Le Don De Vie at Epsom (where we ran green, under a sympathetic ride), particularly caught the eye, especially with the winner being sold after that for a whooping £460,000 at the Goffs London June sale at Kensington Palace.
Following that, Current Option won at Thirsk where he was visually impressive, spread-eagling a decent field. With the form of that race working out really well he was our top choice out of the 1000 plus horses for sale.
Seeing him the flesh at the Newmarket Tattersalls July sales only went on to confirm what we thought and with Stephen Thorne (Assistant Trainer to Ado McGuiness) and the vet also keen, we knew we wanted him, even if we felt his price may be out of our reach.
When Current Option entered the sales ring he did so with an air of authority. As mentioned we felt beforehand that this was the horse of the sale but we also knew the competition for the horse's ownership wasn't going to come cheap. As expected plenty of the horseracing big guns were in the ring, all wanting to take this outstanding looker and son of Camelot, home.
We were absolutely delighted when we eventually purchased the horse for what we thought was a great price. We were quickly congratulated by other people as they could see we had bought something special. With the Irish Field branding him the "horse of the sale".
After buying him he was sent over to our trainer Ado McGuiness and on arrival in the yard and after a couple of light workouts, the whole team were amazed by the calibre of the horse. Quotes such as:
" I have never seen a stride quite like that", "he's the best horse I've ever ridden and probably ever will do" and "we've a Ferrari parked in the garage", has only made us more excited about our new recruit.
We believe that the horse's breeding is amazing and it also suggests he will only improve, plus he has rock-solid proven form, he's exceptionally fast, strong and powerful. Plus, he has a heart of gold and loves his racing. With such vibes coming from the yard we believe this horse will be shoulder to shoulder with the best in the world and we can't wait to get him on the track.
We have a final few shares available in this outstanding horse and if you want the opportunity to be rubbing shoulders with the most famous owners and trainers in the parade ring, whilst competing in the elite races then we firmly believe "there's only one Current Option" and that is he!
Current Option - No Shares Available
Never Back Down
Never Back Down was also purchased at the Tattersall sales by the Dooley brothers for Dooley Thoroughbreds and Stephen Thorne.
Never Back Down had earlier in his career been an exceptionally high-class sprinter, winning a Listed race, but his form had somewhat tailed off. We asked ourselves the questions; could the horse have picked up an injury? Could he have fallen out of love with racing? Either way, we were keen to find out and see him in the flesh in Newmarket.
On first inspection of the horse, it came apparent quickly that he had been worked hard, travelled halfway around the world (to Dubai - certainly not for a holiday) and perhaps over-trained. He was really quite miserable looking, shuffling around and we felt suffering from a state a depression.
With over a 1000 horses up for sale we pondered if we should move on or could we give this horse an opportunity?
Something told us to give Never Back Down a chance and he was purchased.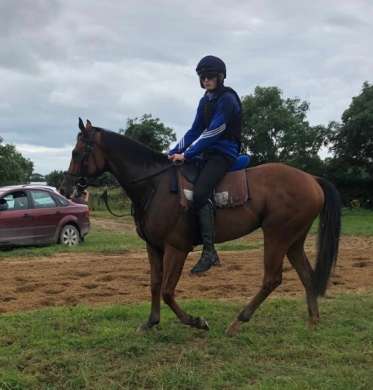 Never Back Down is settling into his new life in Ireland and loving his time on the beach.
We were all in agreement the horse needed a break from racing and training in an attempt to rejuvenate him but it became apparent that this wasn't going to be simple.
The horse was allowed out in the paddock and field to chill and play but all this was out of the norm for him and he looked a little perplexed about what his duty was! He would just stand there, stone-still, looking around. Ado McGuiness decided to add another couple of horses into the field and slowly but surely he started to participate in the horse type games and relax. Never Back Down also quickly put on 10kgs in weight and is starting to seem a lot happier with life.
Next stop was the beach situated only a mile away from the stables, this is a place where the horses can relax, play and use the seawater as a remedy for any aching legs or joints but more importantly can change a horses mentality. To say he took to the beach like a duck to water is an understatement. More days in the field with his new friends followed and more days on the beach got this horse right back on track.
A shadow of the horse we purchased this horse has a buzz about him and the spring in his step is firmly back. This horse never gave up and with his depression a thing of the past and with his new lease of life and yard debut imminent, we believe he will "never back down" on the track.