Horses In Training
Welcome to our Horse in Training section.
In here you'll find out more about our current racehorses including how we bought them, what we like about them, their training schedule, current successes and future targets. We love all our horses, they all have different personalities and enjoy going about their work and training.
So sit back and meet the Dooley Thoroughbreds team and if you see any of them on a racecourse near you please give them a shout on!
Saltonstall
Saltonstall is a 7yo thoroughbred by Pivotal and trained in Ireland by Adrian McGuinness. He is the flag-bearer for Dooley Thoroughbreds and is owned by us and James O'Sullivan (son of the late great Bart).
He was purchased in the autumn Goffs sale for having been previously owned by Godolphin and trained by Mick Halford. The horse came with high recommendation by Stephen Thorne (assistant to Adrian McGuinness) an ex Godolphin graduate who won the "Lead by Example Awards" on staff night and is a key member of the team.
After taking a little while to get accustomed to his new environment, Saltonstall began to show his true ability. His form on the gallops and at home was exceptional but a mixture of ground and misfortune meant he was unable to transfer this onto the racecourse. That was until his sensational victory in the 2019 Galway Mile. Since that stunning victory, Saltonstall has turned into one of the most reliable and popular horses in training.
His 2020 was his best yet. It started with a great run behind stablemate Bowerman in the Lincoln before a sensational second win in the Galway Mile, this was followed by further victories in the Munster Mile, the Listed Glencairn Stakes at Naas and an all-weather victory at Dundalk.
Saltonstall is a kind-natured horse with a great temperament and loves being turned out in his paddock after his morning training.
Current Option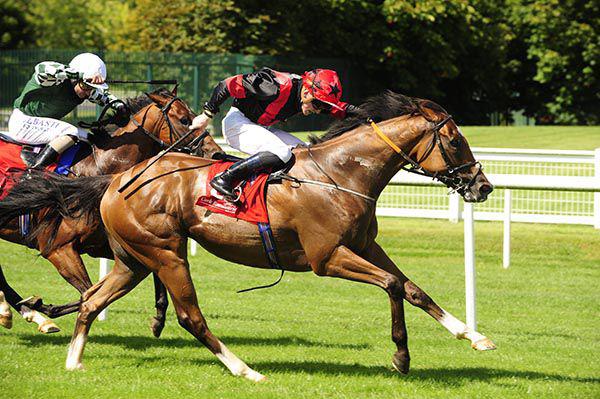 Current Option was a horse we liked from the moment we saw him in the Tattersalls July sales catalogue. Fantastic breeding, proven on the track and with the ability to improve beyond his current mark, he was a horse we had our eye on but it's fair to say he has had exceeded all expectations.
We were absolutely delighted when we purchased the horse for what we thought was a great price. We were quickly congratulated by other people as they could see we had bought something special, with the Irish Field branding him the "horse of the sale".
Owned by Dooley Thoroughbreds in partnership with Shamrock Thoroughbreds and James O'Sullivan the horse has gone from strength to strength since joining Ado McGuiness. A great first run at Cork when runner up was followed by 2nd place in the Irish Cambridgeshire before winning the Sovereign Path on Irish Champions Weekend.
His 2020 was even better with the son of Camelot really starting to fulfil his potential. A series of early good runs were followed by brilliant wins at the Galway Festival in the Ahonoora handicap and then a Listed victory in the Platinum Stake at Cork. The season was topped off by his brilliant victory in the Group 3 Coolmore U S Navy Flag Concorde Stakes at Tipperary - the first Group victory for Dooley Thoroughbreds.
Sirjack Thomas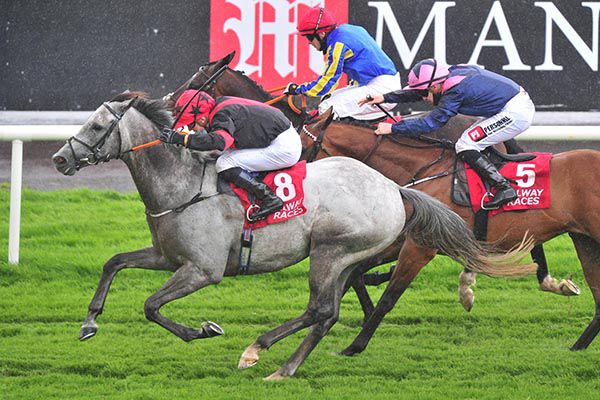 Sirjack Thomas was purchased in the Goffs autumn sale from the Johnny Murtagh stable in 2018. He is a tough dual-purpose grey competing on the flat, over hurdles and on the all-weather.
Jack is a feisty grey gelding who possesses plenty of speed and is by a proven sire of good horses in Fast Company.
A dual winner at Sligo, Sirjack's best win came at the 2020 Galway Festival where after getting bumped on the home bend he fought back for a very game win against a very competitive 17 runner field. He is a regular in top handicaps across Ireland.
Sirjack is a real character around the stable and is full of energy every morning - he is a horse who really enjoys his work. We are looking forward to another great 2021 with him in premier handicaps.
Sirjack Thomas is owned by Dooley Thoroughbreds.
Casanova
Casanova is a new horse to the team, purchased at Tattersalls in 2020 by Stephen Thorne for the Dooleys. We were interested in the son of Frankel when we saw him in the catalogue, especially as we had finished in front of our horse Current Option in a high-class race at Epsom a few years previously.
Casanova was previously trained by John Gosden in Newmarket and had ran a series of good races. He has been off the track for a long time but is settling into life at Ado's yard and Stephen Thorne and the team are positive on his progress, so we are hopeful they can work their magic again!
We look forward to 2021 with him.
Casanova is owned by Dooley Thoroughbreds.
Real Appeal
A 2022 purchase from the Newmarket sales and a horse with been mointring for a while now. He is coming along a nicely in preparation for the current campaign. Hopefully seeking success on the international stage as well Ireland.
The horse has an ultra relaxed tempremant and always saves his best work for the racetrack.
Real Appeal is owned by Dooley Thoroughbreds Shamrock Thoroughbreds and J P Clearly.
No More Porter
Anothee 2022 recruit from the sales and a very smart and talented horse who was exceptionally unlucky not to bag a race last season. A host of excepional efforts in big races catching the teams eye and we were delighted to recruit and add him to the squad. A horse who can compete at all the sprinting distances along with seeing out the mile will have plenty of opportunties to gain a deserved success and he is horse we hold in regard.
No More Porter is owned by Dooley Thoroughbreds
Comfort Line
A 2022 purchase and a rock solid consistant performer who were looking forward to seeing in the competitive premier handicaps.
Comfort Line is owned by Dooley Thoroughbreds and Shamrock Thoroughbreds.
Flaming Rib
A superstar sprinter who has fullfilled the promise shown to Tom Dascombe in his early days. He has a plethora of victories already to his name and looks sure to go globetrotting in search for international success in the forthcoming seasons.
Flaming Rib is owned by Dooley Thoroughbreds, Owen, Dale and Dolan.
Magnetic North
Magnetic North is a horse we have liked for a number of years and he has competed against Saltonstall and Current Option in many good races.
Stephen Thorne picked the horse out at the Newmarket HIT sales and we liked him straight away. He is proven in Premier Handicaps and we think he can continue to compete at this high level.
He is settling into life well at Adrain McGuinesses yard.
Magnetic North is owned by Dooley Thoroughbreds.