Welcome to Dooley Thoroughbreds
Welcome to Dooley Thoroughbreds, we are a passionate family who love our horse racing.
Set up by three brothers - Mark, David and James - we have always loved our racing and now own a number of racehorses.
We buy from top sales, leading trainers or from respected breeders (recently from Godolphin and Qatar Racing) and we look to purchase quality horses that run on a regular basis. Whilst we always strive for class racehorses nothing beats going racing at any level when a horse of yours is running, let alone the feeling when you have a winner!
We also run an exciting racehorse syndicate where throughout the year we offer the opportunity for people to invest and join us on the thrilling journey of being a racehorse owner. Places are limited so if you are interested drop us a message and if a new horse comes available, you will be the first to know. Check out the current shares we have available here.
Also feel free to take a look through our website where we cover a range of subjects connected to horse racing in general, including our story of how we got into racing, overviews of the top UK and Irish racecourses, the history of racing, information on our favourite racehorses from years past and so much more.
We look forward to hearing from you and seeing you at the races soon, hopefully as part of our brilliant, new and exciting racing syndicate.
Current Option Wins The Sovereign Path at Leopardstown
Exciting news - Saltonstall Wins The Priemer Galway Mile
Our star horse Saltonstall won the £120k Galway Mile (Colm Quinn BMW Mile) for Dooley Thoroughbreds and the O'Sullivan partnership at the Galway Festival this year. It was an amazing performance. Check out the full race and reaction here.
Dooley Thoroughbreds Racing Syndicate
Syndicates are a great way to spread the cost of racehorse ownership whilst also being a great way to meet new friends.
We believe being part of the Dooley Thoroughbreds Syndicate offers a unique chance to enjoy being a racehorse owner at a great price. Our syndicate entitles members to the full benefits of sole racehorse ownership; this includes everything from visiting the trainer's stables, helping select races, regular training updates, a share of prize-money and most importantly the thrill of going racing and making life-long memories.
We don't offer many places on the Dooley Thoroughbred Syndicate, this is because we prefer our syndicates to be at a small and manageable size; we believe it makes the experience better and more personal.
In reality, this means that you are more involved in the experience of being a racehorse owner, rather than feeling disconnected from the horse and the decisions about its racing and career - which is the main drawback many have expressed personally to us about larger racing syndicates. As a family we also keep a large share in most of our horses, this means that we remain personally invested both mentally and financially, meaning we really strive for all our horses to achieve their potential.
As mentioned we offer the chance for others to join our group and experience the thrill of being a racehorse owner and for a horseracing fan we believe there is nothing more exciting than the thrill of going racing when you have a runner.
Find out more about our Ownership Plans
Below is a photo of our beautiful 4-year-old grey SirJack Thomas who is trained by Ado McGuinness in Ireland. Jack is preparing for an autumn flat campaign and was a recent winner at Sligo, for more info on him read here.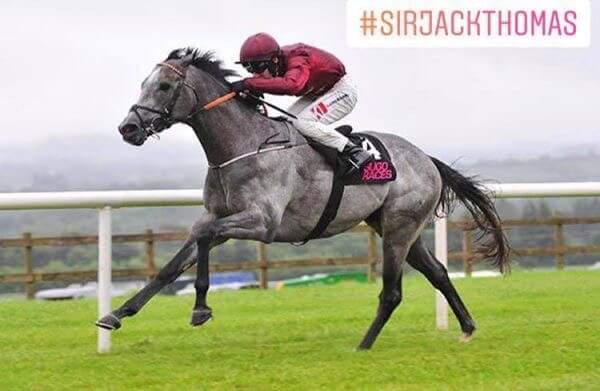 What Makes Us Different From Other Racing Ownership Schemes?
As you are probably aware there are lots of horseracing syndicates around that you can choose from if you are looking to become a racehorse owner, however, we believe ours is unlike any other because of the following benefits we offer:
Great value for money - we have a variety of packages and horses to suit different budgets. All our packages are very transparent so you know exactly what you are paying - there are no hidden costs and no unexpected bills - which can be off-putting for many. You can pay either upfront for the whole year or via monthly direct debit, however, ultimately you know exactly what you are paying and when.
Direct involvement - from the moment you enter the syndicate you will be involved in all the action. You will get regular updates on the horse's training including videos and photos, as well as emails and messages via our very active Whatsapp group. We believe the point of racehorse ownership is involvement, so excellent communication is a key element of what we offer and what truly sets us apart. At Dooley Thoroughbreds we keep you informed with what is happening with your horse and its plans at all times.
A chance to meet new people - joining our top racing syndicate offers you the chance to meet new people and make new friends. The syndicates that we put together at Dooley Thoroughbreds are diverse with people from different ages and backgrounds, all brought together by their single passion of horseracing.
A chance to travel - whilst our brilliant trainers always plan a racing campaign to suit the horses, our horses run all over the UK and Ireland. This means that you can get to travel to new parts of the world and hopefully visit new racecourses with friends and family. Many of the group like to extend trips to the races and turn them into long weekends and mini-breaks to really make the most of the travelling opportunities.
Fun - most importantly our horserace ownership scheme offers fun with a great bunch of people.
If you are interested in making the dream of racehorse ownership a reality for you (or for someone you know as a gift), contact us today and we will send more information on our packages.
For more in-depth information on the Dooley Thoroughbred Syndicate, including prices our current racehorses and more, contact us today or read more on our syndicate page.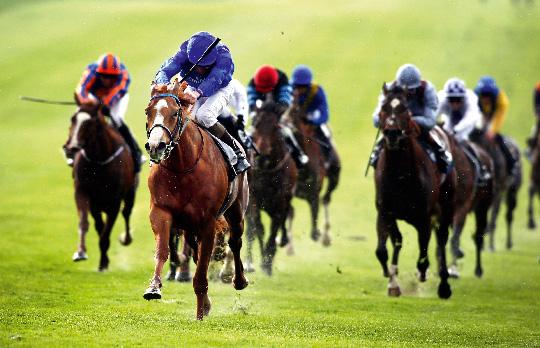 Making the Dream of Racehorse Ownership a Reality
Owning a racehorse can seem like a dream for many. It certainly was for us when starting out. And if you want to be a racehorse owner, where do you start? There are so many things to consider.
The cost of buying a decent horse combined with training fees, vets' fees, travel expenses, race entries, decisions on where and who to train them, insurance and more, means that the costs can seemingly spiral out of control quickly (no wonder flat racing is known as the "Sport of Kings"!). On top of that, there are time requirements.
It ultimately means that the whole exercise can become both cost-prohibitive and off-putting. And, there's the admin and other obstacles to consider, such as where do you actually buy a decent racehorse? Suddenly the whole project can seem daunting, especially for something which is just essentially a hobby.
However, fear not, with our easy racing syndicate we look after everything for you and make it very simple. We have a team of industry experts who have set up successful racing ownership syndicate schemes for years; so you can be assured that you are in safe hands and everything is looked after.
"Dooley Thoroughbreds have made racehorse ownership simple. I am involved and know what is happening with the horse and love the regular updates, plus I am loving meeting new people and away days at the races. It's fantastic and I couldn't recommend it more, it's been worth every penny".
Byron Watson
Our Racehorse Ownership Costs
One of the benefits that we believe sets us apart from our horseracing ownership plans is our pricing structure, which is very clear and transparent. We basically offer a fixed payment amount.
Our simple ownership payment plan includes:
A share in the horse for the life of its racing career or for a set period of time - you join the syndicate for the duration of the horses racing career or decide a length of time that you would like to be involved for. This flexibility means that if circumstances change you don't need to worry and can leave after a set period of time.
All training fees covered - this includes all standard training at home, as well as racecourse gallops, barrier trials and away-days.
Vets fees included - a cost that creeps up and that many have problems with, unexpected vets fees can be high and out of the blue, however, with our scheme the vets' fees are covered for all eventualities.
VIP stable visits to see the horse training - seeing your horse in training and on the gallops is a fantastic experience and our trainers hold VIP open days throughout the year. You can also arrange trips to see the horses at other times too if that is of interest.
Entrance to the races on race days - of course,you get to go racing for free when the horse is running. This includes exclusive paddock entry and access to the owner's lounges and areas.
A percentage share in any winning any prize money - depending on the percentage share you purchase, this will be paid accordingly in ratio to the horses prize-money at the end of every year, this will be minus jockey fees and entrance fees.
This simple approach to racehorse ownership is something that our current members love; it means there are no unexpected bills (which is often a problem that many people face with general racehorse ownership). For this reason, many people buy our racing syndicate as a one-off gift for friends and relatives.
If racehorse ownership is something which appeals to you, or you think would make a great gift for someone you know, contact us today via the enquiry form on this page.
Own a Racehorse
We believe that the Dooley Thoroughbred Syndicate offers a solution which makes racehorse ownership a reality for many.
In truth, we never planned or imagined putting racehorse syndicates together when we started on our individual racehorse ownership journey in November 2018. However, after we purchased our first horses at the Goff sales, we were surprised by how many family and friends expressed an interest in racehorse ownership and wanted to be involved.
Many said, "Next time you get a racehorse, we want in!", this was especially the case when they saw the fantastic experience we were all having when our horses started to race and the brilliant days we had at the races. It was from this feedback that we decided to put together our syndicate scheme.
It essentially happened very naturally and from a desire to share the positive experiences, days out and memories we were making; it was not out of wanting to make money but to share the positive experience wider. Also, as mentioned unlike many larger racehorse ownership syndicates our aim has always been to keep the syndicate small and manageable - we believe this makes the experience more personal. Therefore although our packages are more expensive than some cheap horseracing syndicates, we think the packages we offer are exceptional value for money and a superb opportunity to experience racehorse ownership.
If joining our horseracing syndicate interests you drop us a message and we will send more information.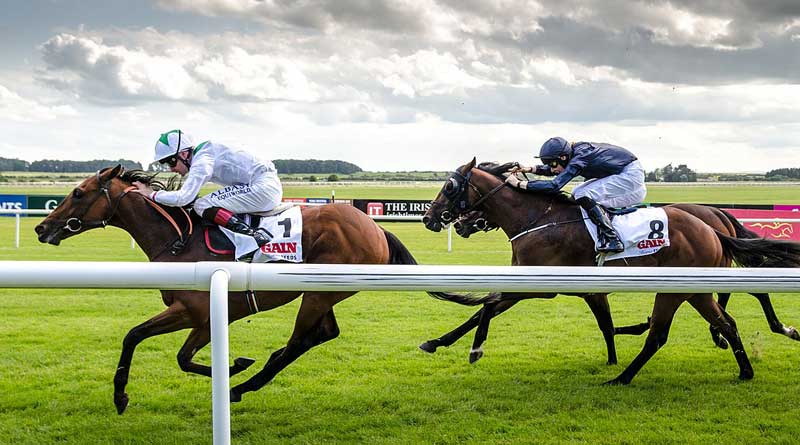 Owning a Racehorse is About Making Memories
This is our moto at Dooley Thoroughbreds.
When entering racehorse ownership, either as an individual or as part of a syndicate like ours, we believe it is important to remember that it's about making memories and not money. Whilst we only buy horses we think are decent (and train them with top and experienced trainers) it is the experience and fun that owning a horse bring that is the most important factor to remember.
If you are looking to own horses it is important to remember that although it can be expensive, it is the superb experiences and memories you will make which should be the main reason to get involved.
Own a Share in a Racehorse Gift
We get lots of people buying racehorse ownership as a gift for friend or family member. If this is something you are interested in, let us know.
Contact Us
If you would like more information about Dooley Thoroughbreds or are interested in potential racehorses ownership through our syndicate simply drop us a message today.
You check out the current racehorses we have available as part of our scheme on our available shares pages, alternatively, we can email over more information.
We look forward to hearing from you soon.