Welcome to Dooley Thoroughbreds
Welcome to Dooley Thoroughbreds, we are a passionate family who love our horse racing.
Set up by three brothers - Mark, David and James Dooley - we have always loved our racing and now own a number of racehorses either solely or with friends.
We buy from top sales or from respected breeders and we look to purchase quality horses that run on a regular basis. Whilst we always strive for class racehorses nothing beats going racing at any level when a horse of yours is running, let alone the feeling when you have a winner.
Take a look through our website where we cover a range of subjects connected to horse racing in general in our blog, including our story of how we got into racing, information on our favourite racehorses from years past and much more.
We look forward to hearing from you and seeing you at the races soon.

Current Option enjoying an early morning canter on the beach. Photo by Morgan Treacy.
Current Horses in Training 2023
Our current horses in training are:
Saltonstall
Current Option
Casanova
Real Appeal
Magnetic North
Sirjack Thomas
Comfort Line
No More Porter
Flaming Rib
We also have an unnamed 2 year old and 3 year old.
Major Wins
The Galway Mie 2019 & 2020 - Saltonstall
Galway Ahonoora Handicap 2020, 2021, 2022 - Current Option
The Lartigue Hurdle 2020 - Politicise
Platinum Listed Stake 2020 - Current Option
The Munster Mile 202 - Saltonstall
Listed Glencairn Stakes 2020 - Saltonstall
Concorde Stakes (Group 3) 2020 - Current Option The Galway Mile 2021 - Sirjack Thomas
Dubai Duty Free Handicap 2021 - SirJack Thomas
2022 Review
A host of successes once again in the campaign with the horses continuing on the upward curve.
The recruiting policy once again taking a step in the right direction with Real Appeal and No More Porter added to the growing team.
Victories coming from Magnetic North, Saltonstall, Current Option, Flaming Rib, Casanova, Politicise and Sirjack Thomas.
2021 Review
Flaming Rib flying the flag for the Dooley Thourogbreds over in England had an ultra impressive year with no fewer than five victories for trainer Tom Dascombe fullfilling the high hopes of the horse. He is surely a horse going places and can hopefully compete in the international races in the upcoming saesons.
Fortunately a full year of racing in Ireland and with new recruit Casanova added to our team it was another successful year for the Dooley Thoroughbreds with plenty of big race wins added to the already impressive collection.
Current Option was seeking a hat trick of wins in the Alnahoora a feat no horse had achieved before and was successful once again to land the lucrative award. A strong Dooley Thoroughbred army was also sent out to capture the Galway mile for a third succesive a year and with a sea of red and black colours at the fore in the home straight it was super grey Sirjack Thomas claimed the victory backing up his previous win in the competeive Dubai Duty Free Curragh handicap.
Casanova was able to grab a couple of victories at Galway and Punchestown to cap off a fine season with other victories coming from Magnetic North and Saltonstall capping off another successful season.
2020 The Season Dreams Are Made Of
With the start of the season rightly delayed due to the global Covid pandemic, we were delighted to get back to racing at the start of June.
Ado, Ste and the whole team had the horses in fantastic shape from the off-set and the season really kicked off with a great 4th place for Saltonstall in the Irish Lincoln behind stablemate Bowerman.
Summer wins for Politicise over jumps at Killbegan and Raphael at Killarney were fantastic, but as was the case in 2019, it was at Galway where the season came to life.
Saltonstall was to win the Galway Mile for the second time under HRI Ride of The Season from Gavin Ryan whilst Current Option claimed the valuable Ahonoora handicap on the Sunday. There was also a great win earlier in the week for SirJack Thomas and Politicise was runner up in the novice hurdle.
The team continued in excellent form into the autumn and Current Option went onto capture the Platinum Listed Stakes at Cork and topped his season with an amazing victory in the Group 3 Coolmore US Navy Flag Concorde Stakes at Tipperary - the first Group victory for Dooley Thoroughbreds.
Saltonstall also continued in superb form and following his Galway win he went on to capture the Munster Mile, the Listed Glencairn Stakes at Naas and an all-weather victory at Dundalk.
Politicise also enjoyed a superb win under Darragh O'Keffe in The Lartigue Hurdle at Listowel and followed up that with his first flat victory since winning a maiden at Newbury.
Raphael enjoyed another victory at Dundalk, with Sirjack Thomas and Never Back Down remained competitive right throughout the year.
It made have been a year when we couldn't make the racecourse as owners but is one we will never forget. We couldn't do any of it without Ado McGuiness, Stephen Thorne and his whole team who continue to guide us and be as hungry as we are for more success.
With two new additions to the team in Casanova and Magnetic North we are very excited about the new season ahead.
Dooley Thoroughbreds Racing Syndicate
Syndicates are a great way to spread the cost of racehorse ownership whilst also being a great way to meet new friends.
Although we are mainly sole owners (or own in partnership with others), from time to time we run an exciting racehorse syndicate where we offer the opportunity for people to join us on the thrilling journey of being a racehorse owner. Places are limited so if you are interested drop us a message and if a new horse comes available, you will be the first to know. Check out the current shares we have available here.
We believe being part of the Dooley Thoroughbreds Syndicate offers a unique chance to enjoy being a racehorse owner at a great price. Our syndicate entitles members to the full benefits of sole racehorse ownership; this includes everything from visiting the trainer's stables, regular training updates, a share of prize money and most importantly the thrill of going racing and making life-long memories.
We don't offer many places on the Dooley Thoroughbred Syndicate, this is because we prefer our syndicates to be at a small and manageable size; we believe it makes the experience better and more personal.
In reality, this means that you are more involved in the experience of being a racehorse owner, rather than feeling disconnected from the horse and the decisions about its racing and career - which is the main drawback many have expressed personally to us about larger racing syndicates. As a family we also keep a large share in most of our horses, this means that we remain personally invested both mentally and financially, meaning we really strive for all our horses to achieve their potential, so basically, we are in it with you!
As mentioned we offer the chance for others to join our group and experience the thrill of being a racehorse owner and for a horseracing fan, we believe there is nothing more exciting than the thrill of going racing when you have a runner.
If you are interested in making the dream of racehorse ownership a reality for you (or for someone you know as a gift), contact us today and we will send more information on our packages. For more in-depth information on the Dooley Thoroughbred Syndicate, including prices our current racehorses and more, contact us today or read more on our syndicate page.
Find out more about our Ownership Plans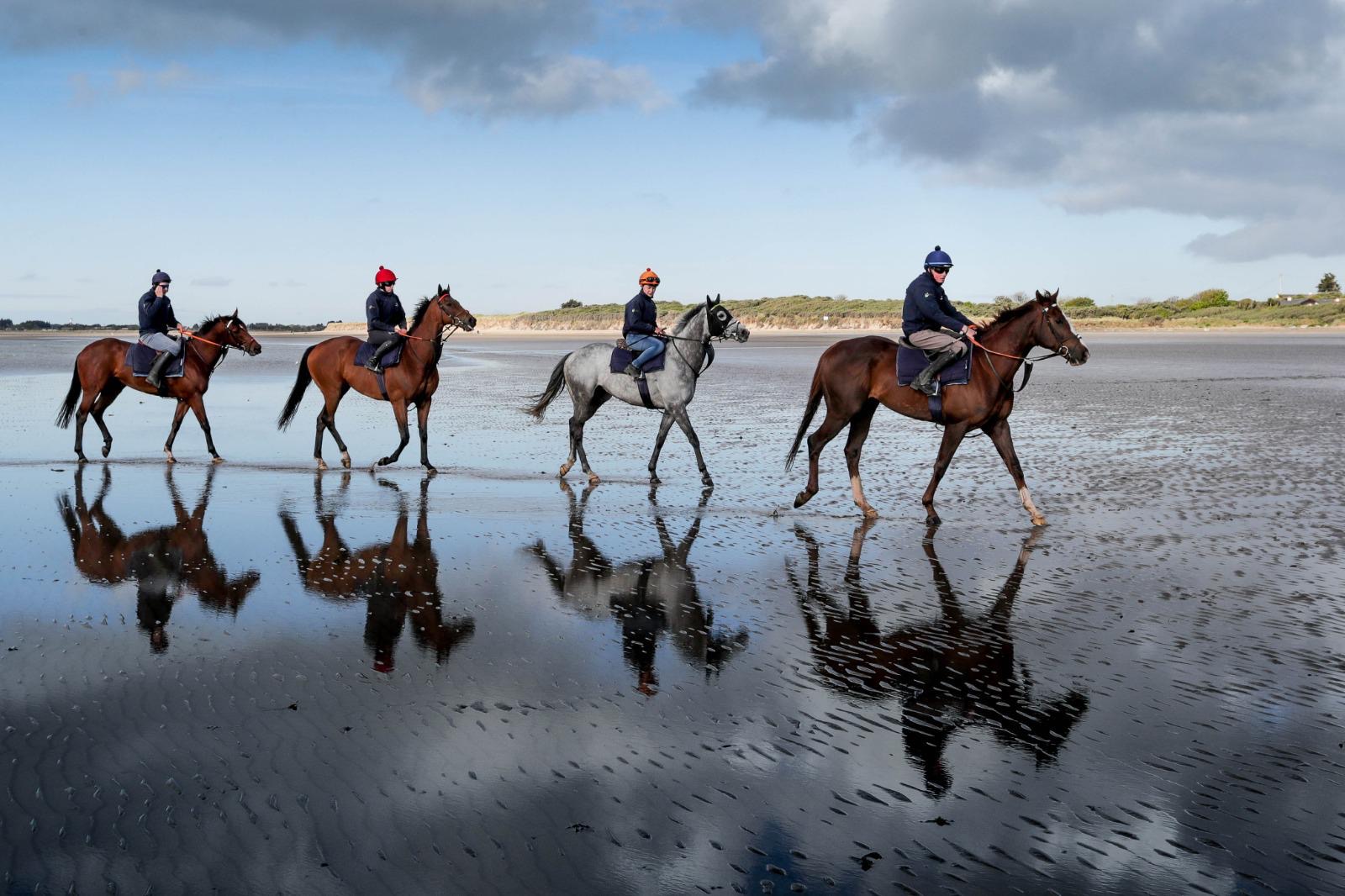 Photo by Morgan Treacy.
Success Stories
Check out all the success stories of all the previous winners for the Dooley Thoroughbreds Horse Racing Syndicate:
Contact Us
If you would like more information about Dooley Thoroughbreds or are interested in potential racehorses ownership through our syndicate simply drop us a message today.
You check out the current racehorses we have available as part of our scheme on our available shares pages, alternatively, we can email over more information.
We look forward to hearing from you soon.