Frequently Asked Questions About Owning a Racehorse
Below we answer the most frequently asked questions we get about owning a racehorse share with Dooley Thoroughbreds. If we don't cover any questions you have here, just drop us a message and we will email you or give you a call.
How Much Does a Racehorse Share Cost?
The cost depends on the horse you want to purchase. The more expensive the horse and the higher class it, the likely more expensive a share will be.
When you have chosen a horse you are potentially interested in we will send over a breakdown of that particular horse's costs and more information concerning that horse. This will detail the costs of ownership and include all training fee, vets fees etc. for the year.
When is Payment Made?
Payment is made on entering the syndicate. The payment will cover a whole year's membership. If you want to take out a longer time scale we can look at this.
What Does The Share Price Cover?
Everything. There are no hidden costs, so you pay the agreed amount at the start of the term.
How Often Will My Horse Run?
This obviously depends on the horse, how it's training and the opportunities available. We outline the racing campaign plans, the constitution of the horse and how regularly the horses are likely to run in their individual information documents so that you get a sense of this before you enter the syndicate.
Where Do The Horses Race?
Our horses race all over the UK and Ireland, whenever there is a suitable race.
Do I Get To Go To The Races?
Of course! We arrange free entry to the races and of course, you get access to the owners and trainers exclusive areas and the paddock. And hopefully the winners' enclosure!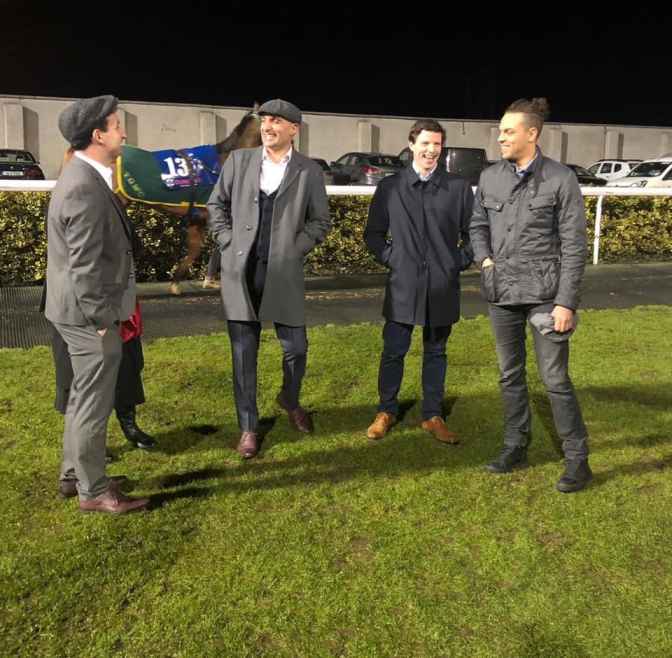 What Happens to the Winnings?
At the end of the year, the horse's accumulated winnings (both win and placed prize money) is divided between the members of the syndicate in relation to the ratio and percentage owned. This is figure is minus entry and jockey fees - if however, a horse has won nothing, the costs of entry and jockey fees are absorbed by Dooley Thoroughbreds (so that you don't get an unexpected bill).
Can I Buy a Racehorse Share as a Gift?
Yes! We get a lot of people buying a share in our horses typically as a birthday or special event present. We also get a lot of companies buying them as retirement presents for long-standing members of staff.
How Do You Choose the Horses?
We buy our horses from top sales and respected breeders. We choose horses that we think we will have good racing careers and take us to the races on a regular basis. The horses are selected by our highly experienced syndicate managers who have had success over many years.
How Many People are in Each Syndicate
It varies but the size of our horse racing syndicate vary from 2 to 10 people. We tend not to go beyond that so that everyone is involved.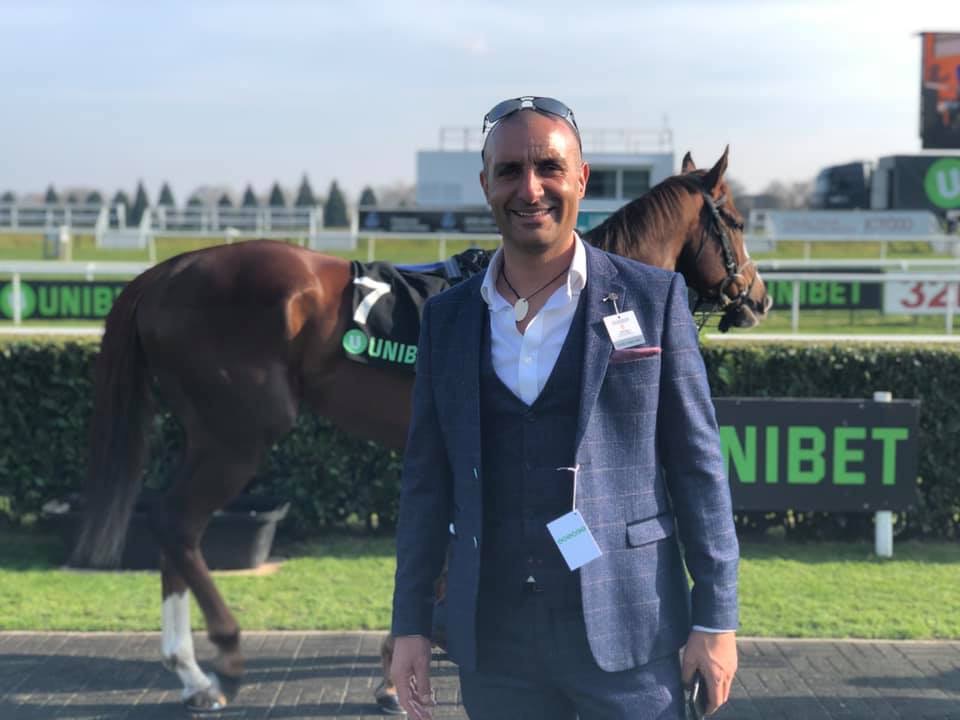 James with Saltonstall in Doncaster.
Do You Offer Corporate Racehorse Sponsorship?
We do this from time, for more information drop us a message today.
Can I Visit The Horse Being Trained?
Yes of course. We will arrange times for you to go and see the horses in training whenever you like. There is nothing like going to see your horse training first thing in the morning. A perfect start to the day.
Why Are You Better Than Other Racing Syndicates?
With many syndicates around (and lots of cheaper options on the market), paying members in these groups can end up feeling like they are part of a huge group of syndicated owners, almost a face in the crowd or a very small pieces of a huge pie, paying out but not really involved or having any say.
Whilst being part a large syndicate has its benefits (it clearly keeps costs down for all) this ultimately means that you aren't involved in many decisions about the horse – with some horseracing syndicates you can literally be one out of 100s of people – and so you don't get to go all the races, to see the horse train etc. At Dooley Thoroughbreds, we believe that these are the best parts of racehorse ownership and so they are intrinsic to the racehorse syndicates that we offer. Basically, for a small outlay, you enjoy all the benefits of sole racehorse ownership.
How Do You Start a Horseracing Syndicate?
If you have a group of friends and want to put together a racing syndicate contact us today and we can help you manage this.