Interview With James Dooley
Check out the in-depth interview with James Dooley of Dooley Thoroughbreds.
How Did You Get into Racehorse Ownership?
I always knew I wanted to own racehorses. From the time I watched them on Saturday TV as a boy and when my mum used to take me and my brothers to Haydock Park after school, there was a buzz of watching and going to the races that I just loved straight away.
I knew I was too big to be a jockey so decided I want to own them but had no idea how that would happen!
Over the years it was something I'd thought about and had discussed. Then my brother David introduced to a friend of his called Bart O'Sullivan in our local pub in Bond Street, Leigh. Bart had horses in training in Ireland and he talked me through the costs, risks, everything really.
Most of all, I was struck by Bart's passion for the whole experience and I just knew I had to do it. It felt like fate.
Bart then introduced me to his trainer Ado McGuinness and the two of them have made the whole experience easy and fun. I couldn't thank them more.
I'd saved some money up so just took the plunge and have never looked back since.
What Was Your Best Day at the Races and Why?
To be honest we enjoy every day at the races but choosing the best is easy.
It has to be when Saltonstall won his first Colm Quinn Galway Mile at the Galway Festival We always really liked the horse but he'd had his problems. We'd actually fancied him for every race that season and things just hadn't gone right for him with one thing or another.
Going to Galway we knew he was in good form but when we got a wide draw and it was a big field we thought it would be too big an ask, so we'd just gone for a good day out.
Myself, mum and two brothers had all flown in that morning, we got changed in the hotel gym (as our rooms weren't ready) and went to the track. It was the most amazing racecourse and we excited to be part of the experience. When it came to the race we were all very calm but he got a great ride from Colin Keane and put up a brilliant performance.
We were so overwhelmed and delighted when he ran down the whole field and won. We were going crazy. It was what dreams are made of and to share them together as a family is something we will never ever forget.
No money can buy those types of memories.
Check out the interviews here:
What is the Biggest Drawback About Being a Racehorse Owner?
The biggest drawback of being a racehorse owner is the expense, to keep the horse in training and the general upkeep fees can be costly. I certainly would not advise anyone to enter racehorse ownership if they solely doing so to make a profit. In my limited experience, I would say you won't!
However, as I've mentioned this journey for me is all about "making memories" that money can't buy. I only invest what I can afford to lose and every time I go to the races with my family and friends it feels like money well spent.
I'm naturally a positive person so I don't really see many drawbacks, although it can be disappointing if one of your horses runs below form, however, as long as they come back safe and sound from the races you can't ask for anything more than that.
The high points so far have certainly outweighed the lows and I couldn't recommend it enough if someone was thinking of going into ownership.
In Your Experience, Which Racecourse in Ireland Treats Owners the Best and Why?
I have not experienced all the Irish Racecourses yet so it may be unfair to say but I have had great experiences at Cork, Galway and Dundalk; all full of character and charm.
The clerk of the course of Cork personally took me, my wife (Kerry) and mum around the track. He was so proud of the course and you could see why - it was stunning.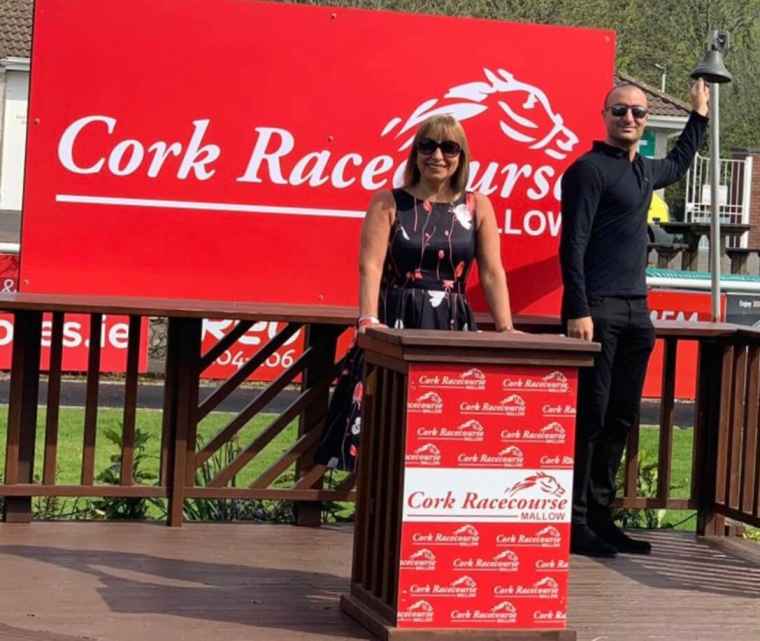 Cork is a stunning course.
Dundalk is special because it is where we had our first runner and winner and they put on a great night out on, however, if I had to choose one it would have to be Galway Races.
We spent a week at the Galway Festival and everything was perfectly planned, from transportation to and from the course, the entertainment, bars, meals and the great after parties in the city. The people were so welcoming and gave us an amazing reception when we won. It was outstanding. I can't wait to go back it was a brilliant week, there really is something for everyone to enjoy.
Flat or Jump Racing, Which Do You Prefer and Why?
Tough question!
To be honest I love both flat racing and the jump season so I cannot choose one.
I think the spectacle of flat racing is amazing, the speed and beauty of the horses in full flight is just draw-dropping. What I like about jump racing is that you can follow your favourite horses over many years, they come back time after time and they feel like old friends.
I couldn't pick one over the other though - that is why I have flat and dual-purpose horses.
What Qualities Do You Look For in a Trainer?
We look for a number of different qualities in a racehorse trainer, the mains ones are:
Someone who is going to look after the health and wellbeing of your horses at all times
Someone you trust
Someone who keeps you up-to-date and informed of what is going on
Someone who shares the same level of ambition as you
And very importantly, someone that you like!
Although Bart recommended Ado, we looked at other trainers. When investing money in anything it is always best to do your homework and look around.
It is fair to say that Ado certainly fitted the brief above so we are delighted with them.
At Dooley Thoroughbreds, we are firm believers that if your horses enjoy their racing they will run much better and this is another reason Ado and Ste were a perfect fit for us. What we particularly liked about the team and their set-up was:
The Beach - it's no secret that Ado does quite a bit of work with the horses on the beach in Lusk. It's great for the horses' aches and pains being in the seawater after a race. Just being on the beach on a regular basis also keeps them fresh, their mind alert and gives them a different perspective to daily life - rather than just running around the same gallops or in their stables.
The ability to listen to us - we always listen and take on board everything that Ado and his team say but we also have our ideas and sometimes you to have follow your own instincts. Myself and my brothers have followed and been involved with racing for over 20 years so we have our own knowledge and views on form guides and breeding. When buying our horses we go through the full sales catalogue, watch all the races of our short-listed ones, go to the sales to see the horses personally, as well as then listening to the opinions of Ado, Ste and the vets. It means when things go right or wrong we take responsibility and don't blame anyone else.
Communication - Ado and Ste are outstanding at this. We get regular updates on all the horses, help choose the races and plan ahead. It's a real team effort.
The fact they are looking to grow, develop and improve - they want to get better, want to grow and win big races. This totally matched our approach, so we are all "singing from the same hymn sheet" as the cliche goes. Also as a medium-size stable, we feel important and not a small fish in the ocean, which I imagine you can feel like with bigger stables.
The personality - Stephen Thorne and Adrian McGuinness are just great people, it is important you can work closely with your trainer as it is a partnership. We like them and know they want the best for us and the horses. The celebrations after Saltonstall's win just showed that.
What Improvements Would You Like To See at Racecourses in Ireland For Owners?
This is a hard one to answer because each racecourse is very different and I have not been to all of them.
However, something I feel should be "standard" is that our HRI cards should be able to be used at all race meetings, even when we do not have a runner on the day. This is because there are times when you may visit a racecourse to go and see a horse running that you may want to buy.
Also, I may be deciding to enter my horse in a valuable race at a certain racecourse at a later date and want to experience the racecourse facility and see the hospitality it offers before making that decision.
That approach is pretty standard in other professions, for example, if you are wanting to book a hotel or restaurant for a corporate event and spend a lot of money, you tend to get a free stay to check out the hotel rooms or try the food before being asked to commit, I think racecourses should do the same.
It would be great if you could use in the UK too but maybe that is pushing it!
How Do You Feel Owners Are Treated When Not Having a Winner?
I think owners are treated absolutely fine when they do not have a winner on the day. Whether you win or come last, the racecourses generally allow you to access all areas, put on a good spread of decent food on and treat you well in my opinion.
It's all the better when you win and can go in the 'owners winning room', where the owners get a bottle of bubbly and get to rewatch the race again but you can't have that every time or it wouldn't be special.
That special moment when you get taken to the winners room! Lifetime memories.
What Significance Do Your Colours Hold?
The colours of Dooley Thoroughbreds are very important to us because they were chosen by the queen of the family - our mother!
She wanted something that we would spot easily, we think she has done a great job.
The black colours with red chevron are now part of my family's fashion, with us choosing similar coloured shirts and ties when we visit the races. The black and red colours along with the peaky blinders hats are what makes us fashionable (I think lol), or at least stand out from the crowd.
How Did Your Syndicate Get Its Name?
The syndicate name is our family surname, so pretty simple answer for that one.
When Buying A Horse, What Do You Look For?
When buying a racehorse value for money is important.
This certainly doesn't mean 'cheap' but it means a horse that we feel has the potential to develop further or a horse that can be bought back to a former decent mark. Value for us basically means what we think the horse is actually worth vs what we be able to pick it up for.
As three brothers we all are interested in different areas. My eldest brother Mark is interested in the breeding side, David loves going through the form and I like a bit of both. We looking to buy we look at the current handicap mark, potential to develop further and which yard they are currently with (as some yards we feel that Ado can improve the horses from their current marks with his training methods).
If we are buying cheaply from a claimer we move quite quickly and look to buy something sound and fun. If we are buying from a big sales it is weeks of debate!
At the last Tattersalls sales Mark went through every page (over a 1000) in the catalogue picking out what he liked, he then sent about 50 to David and I. We then all watched the races to narrow it down further. We then went and saw them in the flesh with Ste and the vet. Ste and Ado have a great eye and know what they can work with and improve. It's definitely worked so far.
After all that analysis we were then left with about 10 that we liked. We then put a price limit that we thought was right from each. From that list, we purchased 3. So out of 1000 to start with it's quite a lot of work!
As we all look at slightly different areas I think it gives us a balanced approach. Time will tell if it works but we are very pleased with what we got and how they are going at home on the gallops.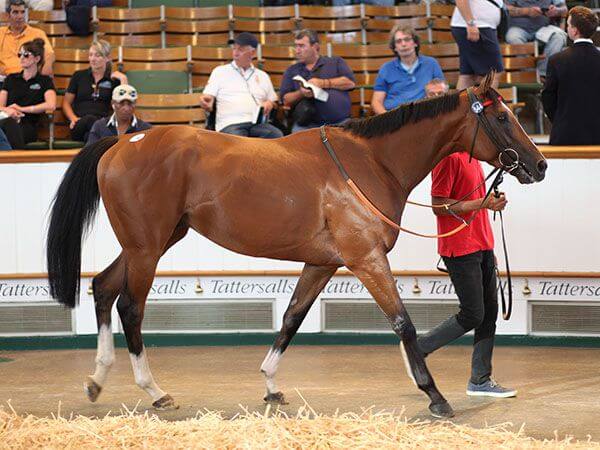 Current Option was our star buy at The Tattersalls July sales in Newmarket.
What Horses Do You Currently Have In Training?
We currently have five horses in training. The horses are:
Casanova
Magnetic north
All six are in training and working nicely on the gallops. Hope they do it on the racecourse.
What's Next On The Agenda For Your Horses?
We always have a plan mapped out, normally working months ahead, but plans can change very quickly depending on weather and ground conditions, the fitness of the horse etc.
All our horses healthy and training nicely at the moment so in the forthcoming months I am confident will have a few more winners. They all like the softer ground and haven't had hard seasons so they should be a nice end to the season coming up for us and we are going to target some big handicaps - you have to be in it to win it Fingers crossed!
Have You Any Horses to Look Forward to? (i.e. young/unbroken horses)
We have all six horses training very well at home so personally, I am looking forward to all of them being on the track.
It's great to have Saltonstall back to form and Sirjack Thomas won well last week. He had a little injury earlier in the year and we have been patient.
We can't wait to get the three new horses on the track. They all look great. We are very excited about Current Option and Politicise who we bought out of William Haggas's yard, they look like two lovely young horses.
We are probably going to try Politicise over hurdles and also Sirjack Thomas could have another go over hurdles as well, so we are looking forward to those two this winter. A winner over the jumps would be amazing. They are both athletic types who could become very nice over the jumps we hope.
What Would Help to Make Irish Racing More Competitive for the Smaller Owner/Trainer?
There's a few very big powerful stables and owners and breeders with big pockets in Ireland so they have a lot of fire-power. It's tough when you come up against them, especially if they have more than one runner in a field and your horse gets frozen out of the handicap but that's life I suppose!
Sometimes it feels like David and Goliath so when you have a winner against a big stable it feels like an amazing achievement.
Maybe races for new owners or those with only a few horses would be a nice idea to try? The prize money doesn't have to big but the buzz of any winner is amazing.
At Dooley Thoroughbreds, we are looking to promote becoming a racehorse owner for the "normal person" - rather than just the old-fashioned view that you need lots of money to own a horse. We are keen to show that if we can do it anyone can with hard work, commitment and belief.
We also run The Dooley Thoroughbred Syndicate where we keep costs as low as possible to get people on board as owners with us. In our syndicate, we like to keep 50% of our horses and we then open up the remaining percentages for other people to join us on the journey. This is something friends and other family members are doing but increasingly more and more different and new people are joining us - which we love. We have new members from all over the UK and Ireland from totally different backgrounds who have now become good friends. We want to continue and grow and have more members and more horses.
Having interviews like this is great to show people that they can do it too. We need help from horse racing magazines, newspapers, racecourses and influencers to help promote our syndicate to entice more owners in, we think that is important so that the sport we love. We like to promote the concept of making racehorse ownership a reality and not a dream, it has been for us and we want other to people to have that experience too.
Why Do You Feel Dooley Thoroughbreds Is The Best Racehorse Syndicate?
At Dooley Thoroughbreds, we honestly believe we are putting together the best and most exciting horse racing syndicate around for a number of reasons:
We believe we have a great eye when purchasing horses - we have so far raced 4 horses and all of them have won for us - Kasbah, Saltonstall, Yuften and SirJack Thomas. Having a 100% strike rate is pretty good, even if I say so myself!
We like to keep a big share in our horses - normally around 50% - this means that we as a family we continue to have a vested interest in the horse. We aren't buying it and selling it on as some syndicates do. We, therefore, want the horse to do well as we are still paying the bulk of all the costs associated with it. It's fun but we don't want to lose money.
Ambition - we want to get bigger and better and improve the quality of our horses. The first few years we are mainly going to be looking at decent handicap type horses. After that, we want to move into yearlings and hopefully, we'll have some Group class horses in years to come.
Fun - The Dooley Thoroughbreds Syndicate makes sure that entertainment and fun are at the forefront of all our racing events. We only want people in our syndicate with a positive mindset, doing it with the right intentions of having a great time and making memories.
For more information on our syndicate read our syndicate page here.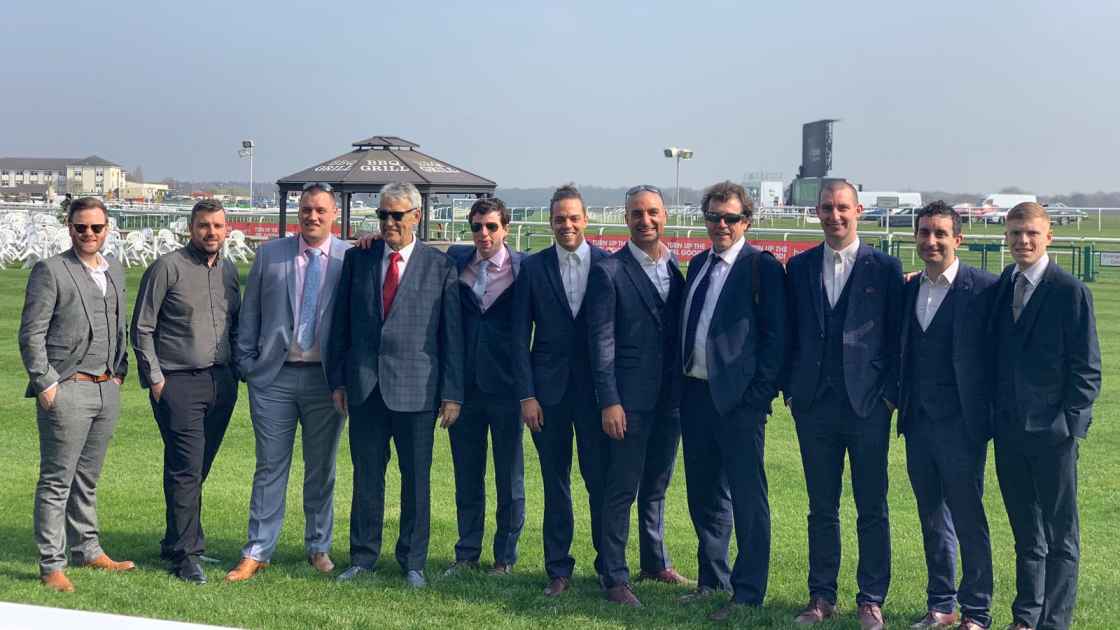 We had a fantastic day at the Lincoln meeting at Doncaster Racecourse this year.
What Advice Would You Give To Someone Thinking of Becoming a Racehorse Owner?
I would give two pieces of advice.
Firstly, do it! I am a strong believer in following your dreams. Life is there to be lived, so if you are passionate about something you should work as hard as you can to make it happen.
Second, my advice would be to start slowly. It can be an expensive game so I would advise joining a syndicate like ours where you can control and limit your liability. We don't take many people in our syndicate as we think smaller syndicates offer better experiences. So with us, you can invest as little as 10% on a horse. This obviously reduces the financial risk but still keeps you involved.
Contact Us
For for information or a one on one interview contact us today. We hope you have enjoyed finding out more about us and look forward to seeing you on the racecourse soon.