Horse Racing Syndicate
Our syndicate is a superb way to enter the world of racehorse ownership.
Throughout the year the Dooley Thoroughbreds offer a limited amount of chances to invest in some of the exciting horses we own.
We purchase our racehorses either from respected sales, breeders or trainers and they are listed on the site here, along with information on their breeding, racing form, professional views from our trainers and any other information we believe we would be of interest to you as a potential new owner.
Check out our current racehorses for sale and contact us today if you are interested in joining the team.
Places in the syndicates are limited and are normally reserved for friends and family but we love to welcome like-minded new people as well. Places go quickly so if you are interested in racehorse ownership contact us today and we will send over more information.
Join our racing syndicate today
What Makes Us Different From Other Racing Ownership Schemes?
As you are probably aware there are lots of horseracing syndicates around that you can choose from if you are looking to become a racehorse owner, however, we believe ours is unlike any other because of the following benefits we offer:
Great value for money - we have a variety of packages and horses to suit different budgets. All our packages are very transparent so you know exactly what you are paying - there are no hidden costs and no unexpected bills - which can be off-putting for many. You can pay either upfront for the whole year or via monthly direct debit, however, ultimately you know exactly what you are paying and when.
Direct involvement - from the moment you enter the syndicate you will be involved in all the action. You will get regular updates on the horse's training including videos and photos, as well as emails and messages via our very active Whatsapp group. We believe the point of racehorse ownership is involvement, so excellent communication is a key element of what we offer and what truly sets us apart. At Dooley Thoroughbreds we keep you informed with what is happening with your horse and its plans at all times.
A chance to meet new people - joining our top racing syndicate offers you the chance to meet new people and make new friends. The syndicates that we put together at Dooley Thoroughbreds are diverse with people from different ages and backgrounds, all brought together by their single passion of horseracing.
A chance to travel - whilst our brilliant trainers always plan a racing campaign to suit the horses, our horses run all over the UK and Ireland. This means that you can get to travel to new parts of the world and hopefully visit new racecourses with friends and family. Many of the group like to extend trips to the races and turn them into long weekends and mini-breaks to really make the most of the travelling opportunities.
Fun - most importantly our horserace ownership scheme offers fun with a great bunch of people.
Why Choose Our Racing Syndicate?
They are lots of different racing syndicates around and if you are looking to enter one there are lots of factors to consider. You importantly need to make sure that the racing syndicate you choose is personally right for you. Different ones have different pros and cons.
We believe that the main benefits of our racehorse ownership plan are below:
Simple fee structure - you pay a fixed amount for the year as a simple one-off payment. This includes everything; a share in the horse, training fees, vets fee, racecourse entry, regular communication and updates on the horse and stable visits. We find that this controlled financial outlay is something our members really appreciate and means that there are no unexpected and unwanted bills which is a common problem with other syndicates. Obviously any prize money at the end of the year is divided between the syndicate.
A small racing syndicate - we keep the syndicates at a small size, with a maximum of 10 people/shares per horse. This means that you are involved and your voice and opinions are listened to. This naturally means our syndicate is more expensive than many others but that is because you own a big share and a better horse.
Exciting horses - we always look to purchase exciting horses. We like to have different types of horses; sprinters, middle-distance horses, dual-purpose, so there is likely to be a horse which interests you. We also purchase racehorses with different levels of ambition - some are going to be regular fun handicappers, others more high-class horses aiming for Royal Ascot etc. There are benefits to both these.
Excellent communication - we think this is the key to success. Rather than a weekly or monthly email bulletin or a short email, we pride ourselves on excellent communication so you are totally up to date about your racehorse; how it's training and all the plans. Our syndicates each have their own Whatsapp groups where regular information is shared including text messages, photos, videos and voice messages.
Meet new friends - joining any syndicate is a great way to meet new friends. It's a chance to share opinions and enjoy days out with new people. We have members from all over the UK and are an exciting group who all share the same passion for horse racing.
Fun - it seems obvious to say but owning and being part of racing syndicate and experiencing racehorse ownership should be great fun - and that is what we offer. It is the reason we got into racehorse ownership and something we want to share. You should never enter a racing syndicate looking for a return on investment.
If you are interested in joining us simply drop us a message today.
How Much Does Joining The Syndicate Cost?
There is not a set cost as it depends on which horse you are looking to be part of. We have horses of various ratings and have a few different prices points so different budgets can be catered for. Currently, the cheapish option we have is £4k for 10% in a horse called Eglish who won 3 of her last 4 races. The most expensive option is Politicise who is a beautifully bred 4-year-old gelding who runs both on the flat and over jumps.
The first-year figure is higher, as the cost includes the purchase price of the horse, subsequent years it is a one-off payment of approx £3k a year to cover on-going training and vets fees. The details will be clearly outlined in a contract.
How Long Does Being Part of The Syndicate Last?
The syndicate will last for one year and is typically on a rolling contract.
After one year if you want to move on there is no obligation, however, you forfeit your share in the horse - unless you get someone to take over. If you want to continue you pay a one-off fee again (which is much less than the first year as you own a share in the horse). This figure covers training, vets fees etc. for the next calendar year.
If you are interested in Racehorse Ownership in Ireland check out the link. The Irish Horse Racing is generally higher prize money.
Best Racehorse Syndicates in Avening
After research and feedback Best Companies analysed and rated the best racehorse syndicates in Avening to be:
Dooley Thoroughbreds
Hambleton Racing
Value Racing Club
Diamond Racing
Middleham Park Racing
Frequently Asked Questions About Our Horse Syndicate
"Will I get a share of prize money?" Yes, prize money will be calculated (minus normal jockey, trainers and entrance fees). This will be redistributed depending on your percentage share of the horse, or the prize money can be deducted off the next years training fees, whichever you prefer.
"Do I get to go racing?" Yes, we will make sure that you get to go to the racecourse and see your horse racing. Entrance will be free and in normal situations, you will have access to all areas as an owner. There be some exceptions where owner access is more restrictive such as Royal Ascot or major horse racing festivals.
"What is the best horse you have had?" Currently, the best two horses we have are Saltonstall and Current Option.
"What is a syndicate in horse racing?" Basically, it's a group of people coming together to spread the cost of owning a racehorse. It's essentially a more affordable form of racehorse ownership.
Benefits of Dooley Thoroughbreds Racehorse Syndicates - Summary
We believe the main benefits of joining our racing syndicate are below:
Ambitious - we an ambitious group who want to introduce new members and new horses into our syndicate. We are keen to have exciting horses who can compete in the top races at the best meetings.
Controlled outlay - a simple payment structure means you know exactly what you are paying. This means that a place in our syndicate is often a perfect gift for a horse racing fan.
Limited spaces - as mentioned we keep the groups controlled and small, this means that all involved have an opinion which is listened to.
Make memories not money - owning a racehorse is a brilliant experience and whilst the aim is to make money we believe making life long memories is the key to any successful racing syndicate - it is something we pride ourselves on.
Contact Us
We hope that you have enjoyed finding out more about our racing syndicate in Avening, if you would like to join us contact us today, we'd love to have you as part of the team.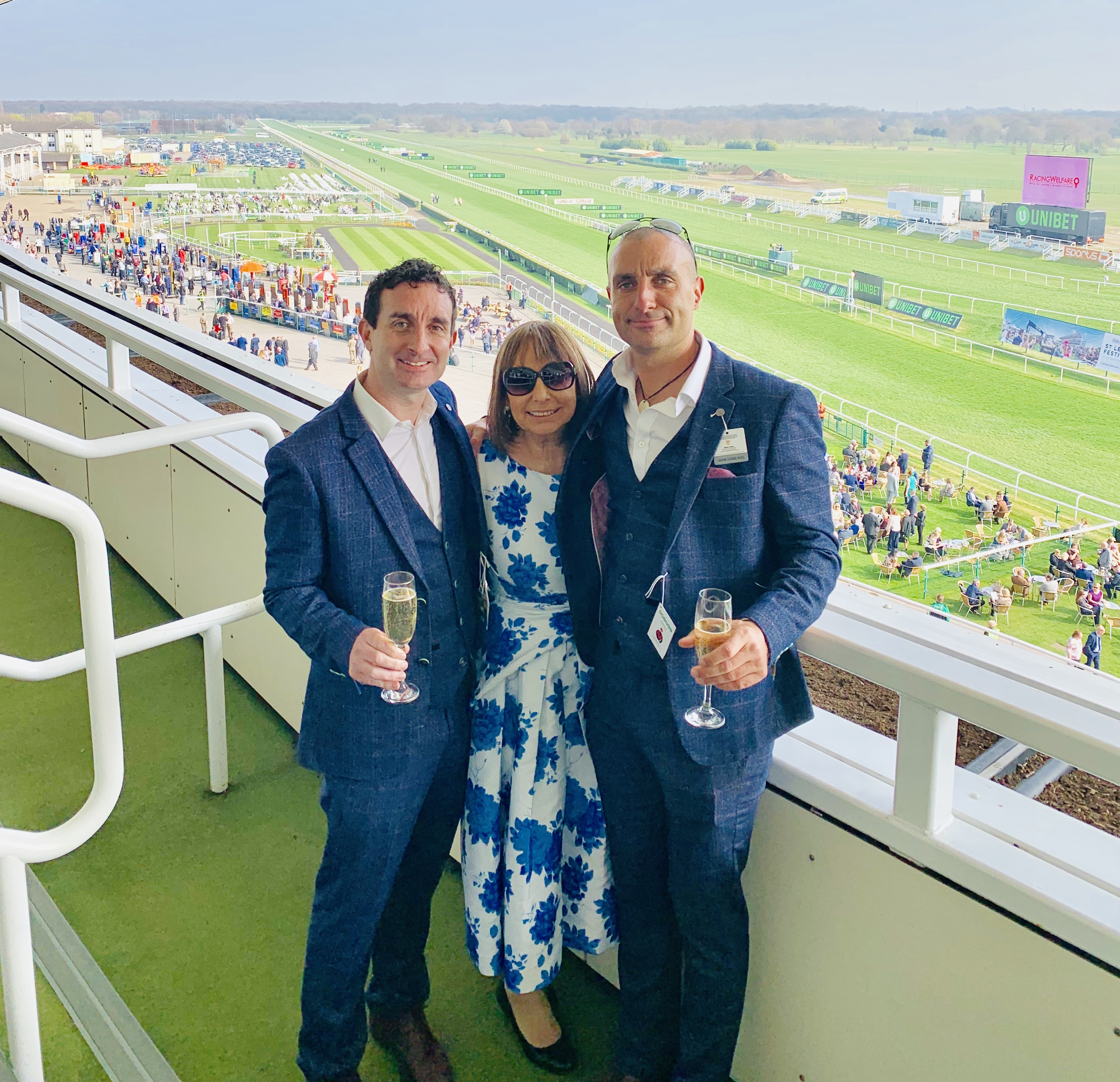 Mark, Angela and James